Dr. Donald Wetherell
Professor Emeritus, Heritage Resources Management
Contact
Education
B.A. (Hons.) (1971) University of Saskatchewan (major in history)
M.A. (1973) University of Saskatchewan (major in history)
Ph.D. (1981) Queen's University (major in history)
Biography
I joined Athabasca University in 2006 as Professor of Heritage Resources Management and as Director of the Historical Resources Intern Program. Having earlier tutored Canadian history at AU, I had a good sense of how distance education works in practice. So, when years later I was offered the chance to set up a heritage resources management program at AU, I eagerly accepted, knowing that the university's leadership in distance education offered an exciting and innovative opportunity for teaching heritage resources management.
Between 2001 and 2006 I taught Museum and Heritage Studies at the University of Calgary. Prior to this, I had worked in the heritage field for almost twenty years as a consultant (based in Edmonton) and had also worked as a volunteer with a range of heritage groups and agencies.
My involvement with the Heritage Resources Management program at AU thus expressed a long professional interest and commitment. I have been drawn to how we find meaning through the remnants of the past-texts and memories, artefacts, buildings, landscapes and impressions on the earth. Always there is a sense of how incomplete and sometimes arbitrary these records and traces are, and how the things that survived by accident or design now shape how we imagine and re-imagine past lives. Rather than an obstacle, this incompleteness is tantalizing because it gives us so many different ways to glimpse what life has been like, and to understand what it has meant, and continues to mean, to be human.
Academic Career
Professor, Heritage Resources Management, Athabasca University 2006-2013 where I was also the Director of the Historical Resources Intern Program and the course co-ordinator for HERM 301, HERM 327 and HERM 501. I also authored HERM 301 and HERM 501 courses.
Assistant/Associate Professor and Program Coordinator, Museum and Heritage Studies, University of Calgary 2001-06.
Sessional and part-time Lecturer, Department of History, University of Alberta, 1978-84.
Publications
Books
2016. Wildlife, Land, and People. A Century of Change in Prairie Canada. Montreal and Kingston: McGill-Queen's University Press.
2006. [with Michael Payne and Catherine Cavanaugh] Alberta Formed-Alberta Transformed. (2 volumes) Edmonton and Calgary: University of Alberta Press and University of Calgary Press.
2005. Architecture, Town Planning and Community. Selected Writings and Public Talks by Cecil Burgess, 1909-1948. Edmonton: University of Alberta Press.
2000. [with Irene Kmet] Alberta's North: A History 1890-1950. Edmonton: Canadian Circumpolar Institute Press and University of Alberta Press.
2000. An Annotated Bibliography of Northern Alberta History to 1950. Edmonton: Canadian Circumpolar Institute, University of Alberta, Northern Reference Series No. 7.
1995. [with Irene Kmet] Town Life: Main Street and the Evolution of Small Town Alberta, 1880-1947. Edmonton: University of Alberta Press.
1994. [with Clayton Research Associates] Two Decades of Innovation in Housing Technology (translated as Deux decennies d'innovation en technologie du bâtiment residentiel de 1946-1965). Ottawa: Canada Mortgage and Housing Corporation.
1993. [with Elise Corbet] Breaking New Ground: A Century of Farm Equipment Manufacturing in Prairie Canada. Saskatoon and Calgary: Fifth House Publishers.
1991. [with Irene Kmet] Homes in Alberta: Building, Trends, and Design: 1870-1967. Edmonton: University of Alberta Press.
1990. [with Irene Kmet] Useful Pleasures: The Shaping of Leisure in Alberta. 1896-1945. Regina: Canadian Plains Research Centre, University of Regina.
Articles
Articles have been published in the Journal of Canadian Studies; Lobstick An Interdisciplinary Journal; Prairie Forum; Histoire sociale/Social History; Alberta History; The Literary Review of Canada and in several books.
Professional Achievements
Inclusion in Canadian Who's Who since 2004.
Inclusion in Contemporary Authors 2004 (Farmington Hill, MI: The Gale Group) volume 220 (2004): 412-413.
Alberta's North named one of the Outstanding Academic Titles of 2000 (Choice Award) by the Association of College and Research Libraries, a division of the American Library Association.
Alberta's North winner of The Clio Award (Prairies), for excellence in historical writing, Canadian Historical Association 2001.
Town Life: Main Street and the Evolution of Small Town Alberta, named Scholarly Book of the Year by the Alberta Publishers Association, 1996.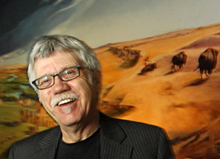 Updated February 10 2015 by Student & Academic Services